Divi Headers Layout Pack
⚠️ Hurry! Divi Headers are ON SALE for over 85% Off for a VERY Limited Time! Grab them for only $5! ⌛
Divi Headers Layout Pack are professionally designed Divi Headers that are built for the Divi Theme Builder. You can easily import them and use on any site, and customize using the Divi Builder!
Plus, we've created in-depth documentation that show you how to import, use, and customize each of the included Divi Header Templates.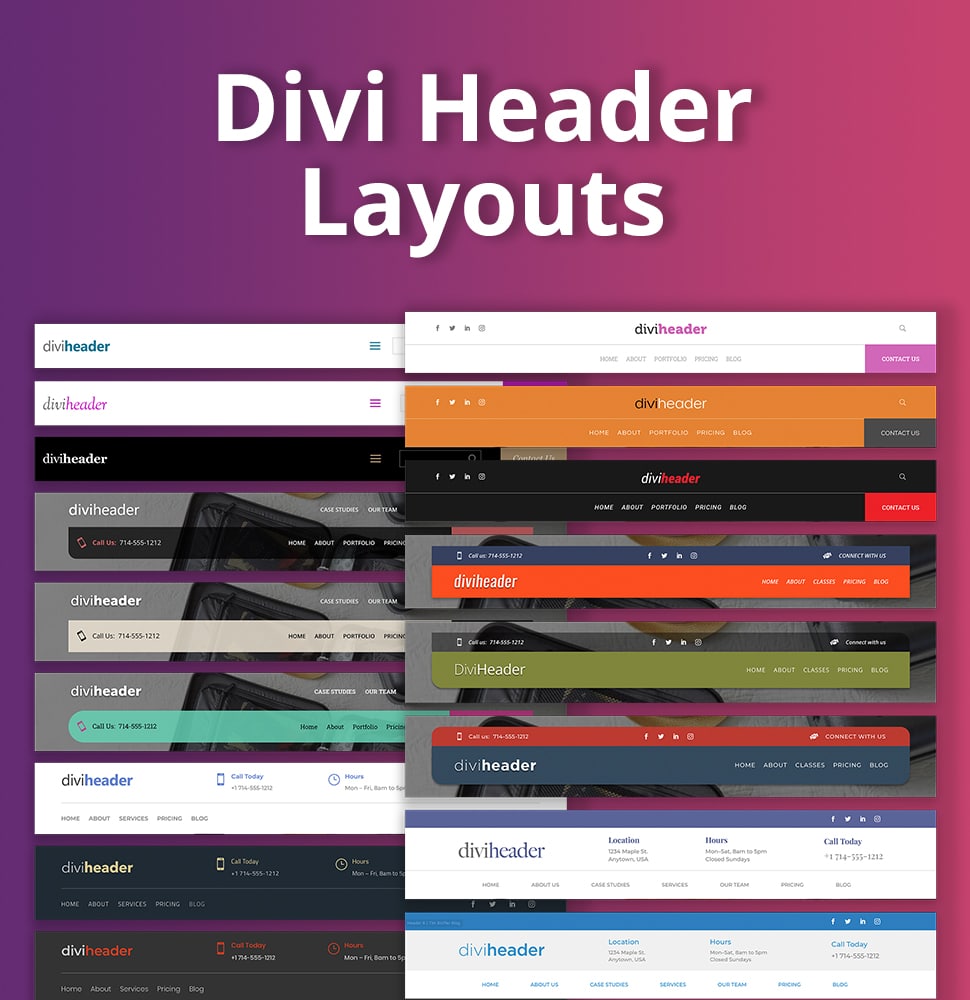 Product Description
Divi Header Layouts allow you to easily create gorgeous headers using the Divi Theme Builder! Once imported, these headers can be customized to fit your brand. Each header comes in multiple style variations, with more headers and styles on the way! These headers are also fully mobile responsive. We didn't just scale down desktop for mobile, but created an optimized mobile header that will combine simplicity and user-friendliness with great design and features. These headers are fully built using Divi's native modules.
18 Different Headers that Can Be Easily Customized
Optimized for Mobile
In-Depth Video & Text Documentation
Whether you prefer watching a step-by-step video, or skimming a documentation article, we've got you covered! Our Divi Header Layouts are well-documented making customizing a breeze.
The documentation also features a "Visual Table of Contents" to show you exactly what step of the documentation will show you how to edit each part of the header.
Frequently Asked Questions
Can I use Divi Header Layouts on multiple sites/projects?
Yes you can use Divi Header Layouts on an unlimited number of your own websites or your own client projects, however you may not redistribute to any other designer or developer, or resell it in any way.
What about updates?
We are planning to expand this template pack with more layouts, style variations, features, etc. By purchasing today, you will get access to any future updates, even after we eventually raise the price.
What about Documentation?
We've created in-depth documentation that will walk you through not only importing the headers, but also on how to customize them to fit your brand!
What about customer support?
We take pride in supporting our customers, and we feel that our testimonials reflect that greatly. If you need help of any kind, you can access support through your Divi Life customer account. Customer Satisfaction is always our goal 🙂
Licensing
Divi Header Layouts are Divi Theme Builder layout templates, and do not require a license key of any kind. You may use these layouts for an unlimited number of websites that you create for yourself or for clients.
Purchase Divi Header Layouts
For the time being, Divi Header Layouts are not a subscription product, but that may change in the future. All purchases prior to any pricing changes will be grandfathered in.
I really enjoy Tim. He is such a good resource for small business owners and developers. You learn in the chat how thoughtful he is, which shows in the design of RoyalCommerce.
Eileen Lonergan
I love this theme (RoyalCommerce). I must say that the documentation is great. It was the easiest I had to follow in the last 12 months. Great theme, superb instruction. Thank you Tim!!!
Ferenc Sárosi
Tim, Thanks so much! You are a legend! I will be keen to buy more child themes in the future.
Angie Neal
I am absolutely loving RoyalCommerce Tim. Beautiful, clean and fantastic attention to detail, well done.
Michelle Nunan
Great interview Tim, great products, big fan of your work.
David Blackmon
RoyalCommerce…WOW. Tim puts his time, expertise, and talents into this theme. I had a quick question…Tim got back to me immediately. Tim, please build more themes ? For other developers, follow Tim's lead.
David Oralevich
Credit where credit is due Tim, you've done a cracking job on this child theme.
Colin Falcon
Very nice theme Tim. Great job. I may have to purchase a copy myself for an upcoming project. You covered everything ?
Geno Quiroz
Nicely done Tim.. I just grabbed both the welcome message and the admin color scheme plugin. Excellent.. ?
Paul DiCecco
I love the clean styling; the video walk-thru is very clear, and you can create a great looking WooCommerce site in much less than half the time. So well worth the investment, and very impressed with the support too!
Sarah Austin
Thank you so much. I can't tell you how much I love the theme and how many compliments we've gotten on this site. Looking forward to your future projects!
C.J. Cavin
I cannot believe the value presented in this child theme! ALL of the 'heavy lifting' has been done. Thanks so much to Tim Strifler for putting so much work into this to save me sooo much time! I cannot thank you enough!
Chris Potter
Where has Divi Dashboard Welcome been all of my life?
Corey Kretsinger
Purchased both. Going to be life savers. Totally worth it. I previously worked as an e-commerce manager for 11 years, what you have done and the power of woo and Wordpress opens loads of doors people.
Ian Lucas
Tim this is just great. You have really great talent, my friend. I really admire your work, really good ?
Fabio Sarcona
Nothing is more frustrating than buying software, needing some help and not getting it. Tim went beyond his claim to give good support, it was excellent. Thank you Tim, can't wait to see what more you build.
Verdi Heinz
WOW! What an amazing product, I have no previous web design experience and was able to create a beautiful e-commerce site. Super easy to use and brilliant results! Thanks for such a wonderful product. Thank you again. RoyalCommerce is brilliant!
Georgina Brown